These top 5 pumpkin recipes I would love to try! I hope these help you out with dinner ideas and dessert. Keep in mind I did not chose these by how they will they taste but by wanting to try them. All of these recipes I found on Foodnetwork.com/Pumpkin. Enjoy!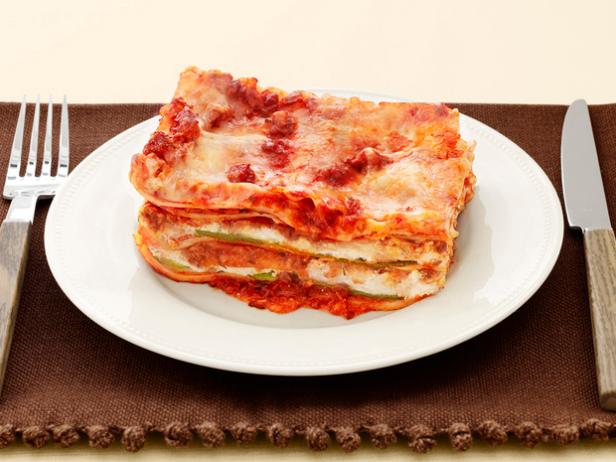 Pumpkin Lasagna
Before you start to make the lasagna remember to preheat the oven to 350 degrees. Ingredients: 1 cup of pumpkin puree, 1 ½ tablespoons of extra-virgin olive oil, 1 medium onion (chopped), 4-6 cloves of garlic (sliced), 1 pound of spicy Italian sausage (casings removed), ½ cup of red wine, 1-28 ounce can tomato sauce, ¼ cut chopped fresh basil, ¼ cup chopped fresh parsley, ½ teaspoon of dried oregano, salt and pepper, 1 16-ounce box of lasagna noodles, 1 large egg, 2 ½ cups of ricotta cheese, 2 cups of shredded mozzarella cheese, ½ cup of shredded romano cheese, and 1 large zucchini (very thinly sliced). Heat 1 tablespoon olive oil in a medium pot over medium heat. Add the onion and saute until translucent, 6 to 7 minutes. Add the garlic and cook until fragrant, 2 more minutes. Add the sausage and cook until brown, breaking it up with a spoon. Pour in the wine and cook until reduced by half. Stir in the tomato sauce and herbs and bring to a simmer over medium-low heat. Season with salt and pepper, cover and reduce the heat to low. Simmer 15 minutes, stirring occasionally. Bring a large pot of salted water to a boil. Add the lasagna noodles and cook as the label directs. Drain and toss with the remaining 1/2 tablespoon olive oil. Mix the strained pumpkin puree with the egg in a bowl and season with salt and pepper. In a separate bowl, mix the ricotta, 1 cup mozzarella and the romano. Build your lasagna in a 9-by-13-inch baking dish: Start with a layer of sauce, then top with a layer of noodles. Evenly spread half of the pumpkin filling, than half of the zucchini, over the noodles. Top with half of the cheese mixture and cover with some of the sauce. Repeat the layers, finishing with noodles and sauce; sprinkle with the remaining 1 cup mozzarella. Bake, uncovered, 35 to 40 minutes, or until bubbly. Let cool 15 minutes before slicing.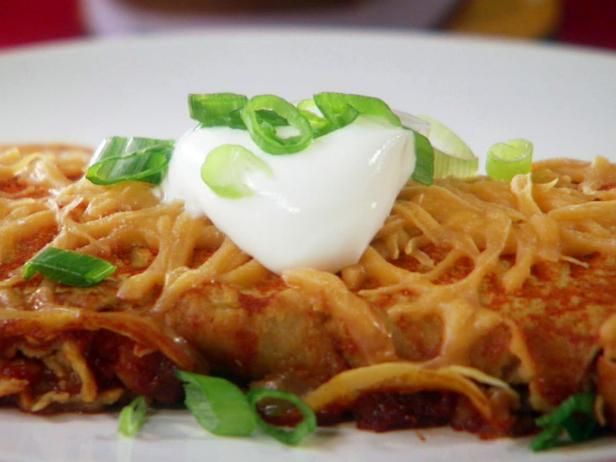 Pumpkin Enchiladas
Preheat oven to 400 degrees fahrenheit. ⅓ cup chopped onion, ⅔ cup canned pure pumpkin, 1 ½ tablespoons taco sauce, 1 teaspoon taco seasoning mix, 2 large corn tortillas, ¾ cup red enchilada sauce (divided), 1 slice fat-free Cheddar cheese (halved), ¼ cup shredded fat-free Cheddar cheese, Salt and black pepper (optional), Fat-free sour cream (optional), and Chopped scallions (optional). Bring a skillet sprayed with nonstick spray to medium heat on the stove. Add onion and, stirring occasionally, cook until it begins to brown, about 2 minutes. Transfer to a bowl. Add pumpkin, taco sauce, and taco seasoning to the bowl. Mix well. If you like, season with salt and pepper, to taste. Set aside it aside. Spray a baking pan with nonstick spray and set aside. Place tortillas on a microwave-safe plate. Warm slightly in the microwave, about 15 seconds. Lay tortillas flat, side by side. Spread 2 tablespoons enchilada sauce onto each one. Place a half-slice of cheese in the center of each tortilla. Evenly distribute the pumpkin mixture between the centers of the tortillas. Wrap tortillas up tightly and place them in the baking pan with the seam sides down. Cover with remaining ½ cup enchilada sauce. Bake in the oven until enchiladas are hot, about 8 minutes. Carefully remove pan from the oven, and sprinkle enchiladas with shredded cheese. Return to the oven and bake until the cheese has melted, about 5 minutes. Plate those babies and, if you like, top with sour cream and/or scallions. Enjoy!
Pumpkin Roll Cake
For the cake: Preheat the oven to 375 degrees F. Line a jelly-roll pan with parchment paper. Lightly grease and flour the paper. Butter for greasing pan, ⅔ cup all-purpose flour (plus more for flouring pan), 2 teaspoons ground cinnamon, 1 teaspoon baking powder, 1 teaspoon ground ginger, ½ teaspoon ground nutmeg, ½ teaspoon kosher salt, 1 cup granulated sugar, 3 large eggs, ½ cup pumpkin puree, and ½ cup confectioners' sugar. In a medium bowl, combine the flour, cinnamon, baking powder, ginger, nutmeg and salt. In a separate bowl, beat the granulated sugar and eggs until light and fluffy, about 5 minutes. Mix in the pumpkin until combined. Slowly add the dry ingredients to the pumpkin mixture. Pour the batter out onto the prepared jelly-roll pan. Drop the pan twice on the counter to even out the batter and release any bubbles. Bake for 15 minutes. Meanwhile, dust a dishtowel with the confectioners' sugar. Immediately transfer the cake to the powdered dishtowel and gently roll from one short end to the other. Refrigerate on a pan or plate until completely cool, about 2 hours. For the filling: 1 cup confectioners' sugar, two 3-ounce packages cream cheese (softened), 4 tablespoons (½ stick) unsalted butter (softened), ½ teaspoon vanilla extract, and confectioners' sugar (for dusting).  Combine the confectioners' sugar, cream cheese, butter and vanilla. Beat until light and fluffy. Unroll the cake and spread with the filling. Re-roll the cake and wrap with plastic wrap for 1 to 2 hours. Dust with confectioners' sugar before serving.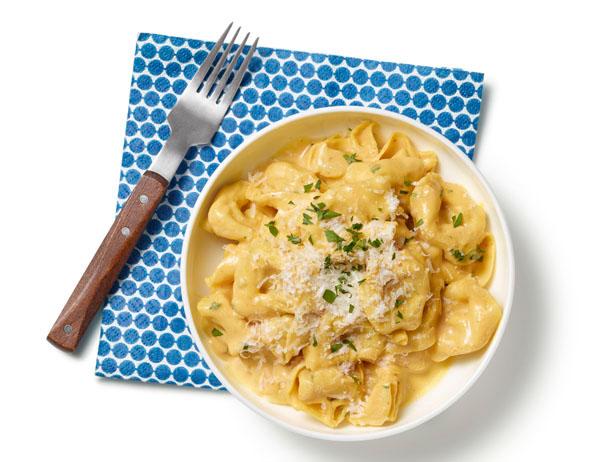 Tortellini With Pumpkin Alfredo Sauce
Kosher salt, 2 9-ounce packages cheese tortellini, 1 tablespoon unsalted butter, 1 small shallot (finely chopped), ½ cup canned pure pumpkin, pinch of freshly grated nutmeg, 1 ¼ cups heavy cream, ¼ cup grated parmesan cheese (plus more for topping), freshly ground pepper, and chopped fresh parsley (for topping, optional). Bring a large pot of salted water to a boil. Add the tortellini and cook as the label directs. Reserve ½ cup cooking water, then drain the pasta. Meanwhile, heat the butter in a skillet over medium-high heat. Add the shallot and cook, stirring, until slightly soft, about 2 minutes. Add the pumpkin and nutmeg and cook, stirring, 1 minute. Stir in the cream and bring to a low boil. Reduce the heat to medium low; simmer, stirring, until slightly thickened, about 5 minutes. Stir in the cheese and cook until thick, about 1 more minute. Season with salt and pepper. Add the tortellini to the skillet and toss with the sauce, adding some of the reserved cooking water to loosen, if needed. Divide among bowls and top with more cheese and parsley.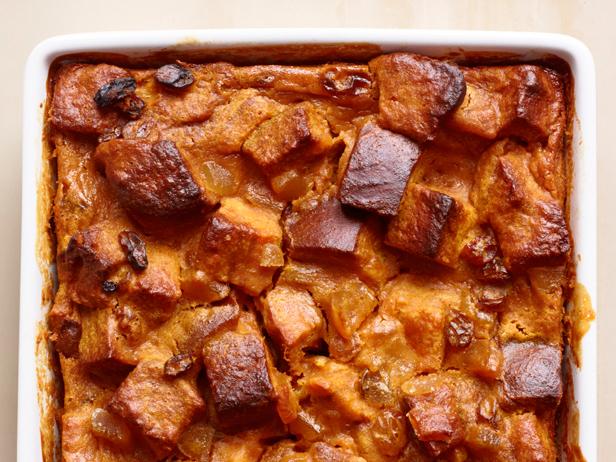 Pumpkin-Ginger Bread Pudding
Preheat the oven to 375 degrees F. 1 4-pound sugar pumpkin or kabocha squash, Extra-virgin olive oil (for brushing), 4 large eggs, 1 cup packed light brown sugar, 1 ½ teaspoons ground cinnamon, ¼ teaspoon ground nutmeg, ¼ teaspoon ground allspice, 2 cups heavy cream, 1 ½ teaspoons pure vanilla extract, 1 loaf cinnamon brioche (challah or plain pound cake, diced) about 10 cups, ½ cup golden raisins (optional), ¼ cup diced crystallized ginger, and confectioners' sugar for garnish (optional). Cut the pumpkin or squash into quarters and remove the seeds. Brush the insides with a little olive oil and arrange on a baking sheet, skin-side up. Roast in the oven until the pumpkin or squash is soft all the way through, about 1 hour. Remove from the oven and let cool. Discard the skin and puree the flesh in a food processor. (The puree can be prepared 1 or 2 days ahead.) Preheat the oven to 350 degrees F. In a large bowl, combine 2 1/2 cups of the pumpkin or squash puree, the eggs, brown sugar and spices. Whisk in the cream and vanilla. Combine the bread, raisins and ginger in a 7-by-11-inch baking dish. Pour the pudding mixture over the bread to cover and let sit 15 minutes. (You might not use all of the pudding mixture at first; add more if there's room in the dish once the bread has soaked.) Bake in the preheated oven until the custard is set, about 40 minutes. Spoon into bowls and sprinkle a dusting of confectioners' sugar on top, if desired. It's fall in a dessert.