Star Wars: The Last Jedi
Hang on for a minute...we're trying to find some more stories you might like.
If you're reading this, then there is a high chance that you know what Star Wars is, and that you're waiting for the 8th episode: The Last Jedi. This month on the 15th, The Last Jedi will be released. So far, the most recent trailers have showed several things that are likely to happen in the movie.
Some of the actors in the movie include Daisy Ridley as Rey, Mark Hamill as Luke, Carrie Fisher as Leia, John Boyega as Finn, Oscar Isaac as Poe Dameron, and of course, Anthony Daniels as C-3PO. On the dark side, Adam Driver as Kylo Ren, Gwendoline Christie as Captain Phasma, Domhnall Gleeson as General Hux, and Andy Serkis as Supreme Leader Snoke.
In the last movie, they brought some older characters back. Some of these classic characters consist of Harrison Ford as Han Solo, Princess Leia, Luke Skywalker, and of course, Chewbacca, who doesn't seem to have aged to much. Then they brought in some newer characters: Rey, Finn, Poe Dameron, General Hux, Kylo Ren, Captain Phasma, Leader Snoke and more.
In the trailer, they follow off the last movie, The Force Awakens, with the last scene. (Warning! Spoiler Alert!) Rey visits the isolated island where Luke Skywalker is hiding, and that's where she begins to show Luke her abilities. Leading along with this, Luke states about how he is afraid of Rey's new abilities; he had witnessed "raw power" before. Along with this, they show a scene where, presumably, Luke escapes a destroyed structure and looks onward at another burning house, next to R2-D2.
Later in the trailer, they show the First Order invade a white planet where they battle with the Resistance. There is a hangar where a Leia Organa is waiting; her face looks concerned and worried.
Speaking of the First Order, they flashed a few scenes of Kylo Ren and his mentor, Supreme Leader Snoke. During a scene of Kylo in a red room, he says "let the past die" as he smashes his helmet into the wall. He finishes it with "kill it if you have to". After this scene, he attacks a control center on a ship where he is presumably targeting his mother, Princess Leia.
Later, they show Finn in a First Order suit, but is fighting Captain Phasma in the midst of mass destruction and fire.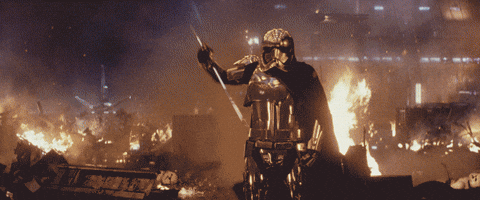 Later on, Chewbacca is driving the Millennium Falcon through a cave of red crystals, evading attacks from Tie Fighters from the First Order. At some surprise, a small, orange, bird-like creature screeches while sitting next to Chewie.
If you've watched the trailers, you'll know there is a ton more, but if you want to find out everything, watch it on the 15th of December. This new movie for Star Wars will definitely bring of some excitement!
Trailer Link
Jared Arbolario, Staff Writer
Jared Arbolario is an 8th grade student at Dana Middle School. Before he came here to Dana, Jared went to both 15th Street Elementary School and Park Western....