Dustin Garneau: The Success Story from San Pedro
Hang on for a minute...we're trying to find some more stories you might like.
Dustin Garneau is a Major League Baseball player that grew up right here in San Pedro, California. In fact, he went to Dana Middle School and San Pedro High School.
He first learned to play baseball at Eastview Little League, played Junior league baseball at Henderson, and played high school baseball and football at Pedro High.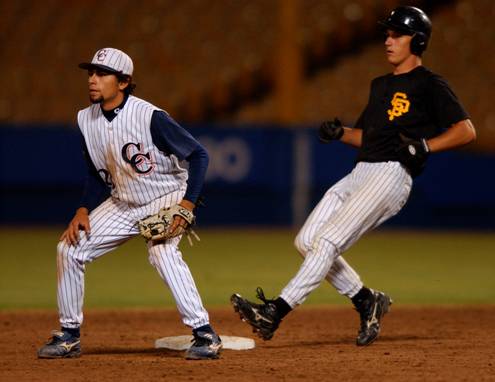 He says junior league prepared him the best for high school because "…you start playing on 90 ft bases and it's the first time you get to play on a real baseball field."
From high school, he was given a scholarship to play baseball at Cal State Fullerton. After that, he went on into minor and major league baseball. When asked how he chose which sport to pursue, Garneau said "I got a scholarship to play baseball, so it kind of made it easy for me." He added, "I just love baseball…I was fortunate enough to get drafted so I got to pursue my dream."
Garneau is a right handed catcher and was first drafted by the Colorado Rockies in 2009. He says he likes being a catcher because "I like that I'm in every pitch, so I have to do a lot more behind the scenes work like watching videos, getting on the same page as my pitchers, getting them ready and myself ready to where every pitch that I call I'm accountable. It's not like the outfielder where you just stand there and catch a fly ball once in a while. I have to be ready for every pitch, that's what I love."
In August 2017, he was traded to the Oakland Athletics, his current team. Right now, he is at Spring Training in Arizona preparing for the regular season.
He says the hardest pitcher he has faced is "Clayton Kershaw by far. If I don't ever face him again in my career I'll be happy." Clayton Kershaw, having some incredible records and stats and a mean curveball, you can't blame him.
When he was growing up, Garneau understood that there were steps to getting to play college baseball or football. He knew he had to get good grades if he wanted to skip Community College and go straight on to play his sport in a four year university. It wasn't just so he would be accepted and acquire a scholarship. He realized that he would need smarts to do the play calling in both football and baseball.
Corey Miller, head football coach at San Pedro High School, was assistant coach when Garneau was playing on the team. He says, "Dustin in high school was the most humble and cerebral kid I've ever been around. What has always made him a great leader (perfect for catcher and quarterback) is he always listened and put his teammates before himself and with a smile." He shares a story during Garneau's senior year on the football team. When the team was short on players because of injuries, Garneau stepped up to play where he was needed (safety). He started 4 games where he wasn't used to, risked injury, and did well for his team.
Mike Walsh was the head football coach when Garneau was playing. He recounted the same story, adding "Dustin was a guy that always worked hard, and made his teammates and people around him better. He wasn't selfish, and he was willing to do anything for the team." It was this work ethic, determination, and team mentality that got him to where he is now.
To those who might want to become pro baseball players, he says "…do what you have to do to make baseball easier. Do your school work so you don't have to worry about that and baseball. Make sure you have fun and you love baseball because when you become a professional and your playing baseball every day, it's very very hard. It gets to the point sometimes where it really tests if you like baseball. When your traveling on 10 hour bus rides and you're not playing very well it really says, do I want to do this and can I do this every year, and hopefully become a major league baseball player? …make sure that you really like baseball."
Basically, make sure that you really love the sport, enough that you'd be willing to recover after a bad day of baseball and go back and try again with a good mindset. Also, if that's really what you want, don't let other things get in the way. Get your work done before. "…Don't procrastinate on school work because…in college you have to learn time management. You can get lost hanging with your buddies, and going out to parties etc. If you do that, you could fall behind in school and get lost real quick. I saw guys who lost scholarships because they were worrying about partying too much and not school work, so the faster you can get school work done and not have to worry about that anymore, you can have a lot more fun with sports activities."